Main content starts here, tab to start navigating
Our Story
La Palapa Cocina Mexicana and the La Palapa Taco Bars are owned by Barbara Sibley, a chef and artist with extensive New York City restaurant experience. Barbara Sibley was born and raised in Mexico City. For many years she has collected traditional, rare and ancient Mexican recipes, including 17th Century recipes from Mexico's convent kitchens, and traditional ingredients. Her influences include Diana Kennedy, the well-known Mexican Cookbook author as well as the many regional cooks she has met in her travels throughout Mexico. Her extensive experience led her to open La Palapa Cocina Mexicana in 2000. As a truly authentic Mexican restaurant, La Palapa has been awarded the "Disctinctivo" by Sabores Autenticos de Mexico Foundation which promotes authentic Mexican products. Barbara is a past president of the New York Women's Culinary Alliance, and previous trustee of Les Dames D'Escoffier NY, LDNY. In 2022 she was awarded the Operator of the Year award from the Industry Excellence Awards presented by the Food and Restaurant Expo and selected as a member of the Fall 2022 James Beard Foundation Women Entrepreneurial Program. Sibley co-authored the cookbook, Antojitos: Festive and Flavorful Mexican Small Plates. She is a featured contributor to many cookbooks including: The Way We Ate: 100 Chefs Celebrate a Century at the American Table, Mocha, Women Chefs of New York, and WW Fresh Mex! During the pandemic she served over 85,000 meals to frontline hospital workers, nursing homes, and soup kitchens.
La Palapa focuses on Mexico City tacos and authentic regional Mexican cuisine featuring Tacos al Pastor, Mole Negro Oaxaqueño, Salsa Pibil and many other specialties from different regions of Mexico. Salsas and sauces are rich and spicy and fresh ingredients are used. A palapa is a palm-thatched shelter on a Mexican beach where you can relax with your feet in the sand looking at the ocean while you sip an ice cold cerveza flavored with lime and salt, and eat a spicy shrimp taco with salsa guajillo.
Thank you to these wonderful photographers for the beautiful images displayed on our website:
Andrew Kist
Gabi Porter
Noah Fecks
Stefano Giovaninni
Barbara Sibley, Chef & Owner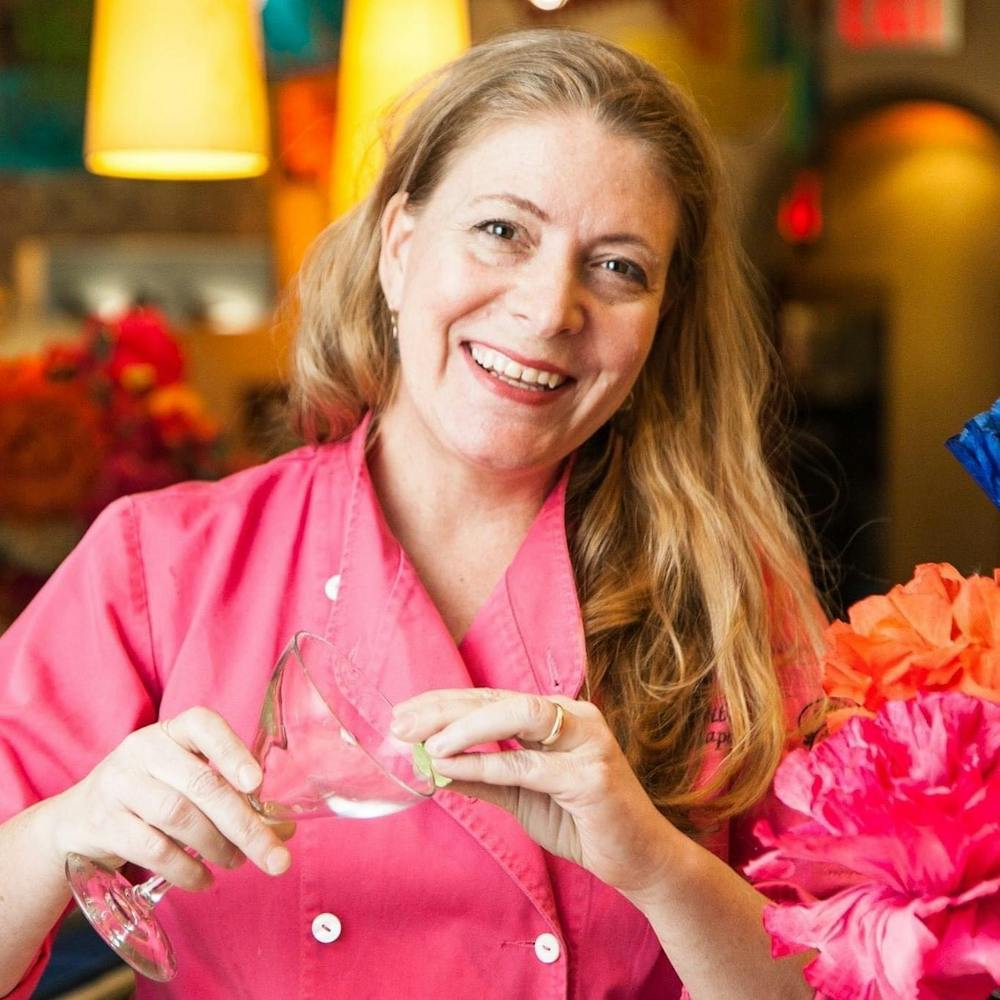 Barbara Sibley was born and raised in Mexico City and the menu at La Palapa is based on the family meals she misses most from her Mexican childhood. At La Palapa, the tastes of her childhood are recreated with homemade queso fresco, chorizos, hand ground nixtamal corn tortillas and complex moles all made the way they would be en su casa. Her interest in indigenous cuisines was deepened by her studies in Anthropology at Barnard College where she joined the Committee on the Barnard Medal. Barbara's New York restaurant career began at age 17 at La Tulipe, a New York Times Three Star French Restaurant helmed by Chef Sally Darr. Her extensive experience led her to open La Palapa Cocina Mexicana in 2000. As a truly authentic Mexican restaurant, La Palapa has been awarded the "Distinctivo" by Sabores Autenticos de Mexico Foundation. In both Mexico and the US, Sibley has guided press tours and travelled to Meredith for APEAM, the Mexican Avocado Producers and Distributors organization. La Palapa is known for its pioneer agave cocktail program and the use of infusions and flavors in tequila. Sibley has done extensive product development for food and spirit developers such as Kraft, Jose Cuervo, Sauza and Bacardi. As an expert in authentic Mexican cuisine, Sibley has appeared in many publications and on numerous television shows such as Queer Eye for the Straight Guy, CBS Sunday, Chopped and NY1 en Español. Recently she cooked her award winning chili recipe on Good Day New York. She reported on Mexican Cuisine regularly on Martha Stewart Radio on the Sirius Radio Network and has taught Mexican cooking to children and adults at venues such as Macy's, Whole Foods, Brooklyn Botanical Garden, The Culinary Loft, UMass at Amherst and the American Museum of Natural History.
To Sibley, operating a restaurant means that you are part of the daily life of your community.Sibley is a past President of the Board of the NY Women's Culinary Alliance, on the Board of Directors of Les Dames D'Escoffier New York Chapter and is a member of the Women Chefs and Restaurateurs. She has been awarded the "High Road" award for her labor practices by the Restaurant Opportunities Center of New York (ROC-NY). Sibley has lectured on Women Entrepreneurs at the Culinary Institute of America. She has received awards from SCORE, the SBDC and a DeWitt Stern Local Hero Award from A.R.T. NY for her support of Community Theater. Sibley is a past Board Member of the non-profit Sara Curry Preschool at LMDN, a nursery school in the East Village since 1896. She has also worked to raise funds for the GO Project, the Committee for Hispanic Children and Families, SHARE for Breast Cancer Survivors and AMFAR. Sibley has lectured on panels for the American Heart Association to grow the awareness of traditional Mexican and Latin American foods as being healthy super foods. She has testified before Congress regarding the need to increase the Federal tipped minimum wage as a gender issue affecting mostly single mothers and has met with Secretary of Labor Thomas Peres to discuss High Road restaurant policies. She has mentored many of her employees and has had students as interns as she feels it is important for them to have strong women as role models. She is honored to be the2018-2019 Executive Chef for SHARE: A Second Helping of Life.
In addition to her career as a restaurateur, since 1997 she has been Co-director and Founder, with her sister Jennifer Clement, of the San Miguel Poetry Week, an annual poetry conference in San Miguel de Allende, Mexico. Faculty poets have included Britain's Poet Laureates Sir Andrew Motion and Carol Ann Duffy, US Poet Laureate Robert Hass, Pulitzer Prize winners such as Yusef Komunyakaa, W.S. Merwin, Stepehen Dunn, W.D. Snodgrass, Grace Schulman, Ruth Padel, Kathleen Graber, Carol Ann Duffy, Paul Muldoon, Christopher Merrill, Cornelius Eady, Toi Dericotte, Mark Doty, and many others. The San Miguel Poetry Week has been awarded a Rockefeller/FONCA grant for its work promoting cultural exchange between Mexican and US poets and writers. In 2009, she co-authored, Antojitos: Festive and Flavorful Mexican Small Plates, which was published by Ten Speed Press/ Random House. She is a featured contributor to the anthologies The Way We Ate: 100 Chefs Celebrate a Century at the American Table, Women Chefs of New York and Mocha. Since 2012 she has had the honor and pleasure of being part of the team restoring the Holiday Cocktail Lounge. An exercise in zen and archeology, as Creative Director her mission has been to preserve this important East Village landmark. In 2015 she opened a fast casual taquería La Palapa Taco Bar in the new Urbanspace Vanderbilt Market in 2019 she opened another in Gotham West Market
Other cookbooks:
Antojitos: The La Palapa Cookbook
Antojitos: Festive & Flavorful Mexican Small Plates
by Barbara Sibley and Margaritte Malfy
with Mary Goodbody
No one does antojitos (Mexican small plates) like the fabulously popular La Palapa restaurant in Greenwich Village, New York.
In Antojitos, La Palapa's first cookbook, you'll find addictively authentic Mexican fare—food for people who love fresh, soulful cooking. You'll find 75 luscious small plates, scintillating salsas, and refreshing drinks—and a few perfect desserts. Get inspired by their classic Salsa Verde; crunchy, cheesy Chalupas con Chorizo; succulent Salmon Ceviche with Fresh Mango Salsa; earthy Crepas de Huitlacoche; spicy, ruby-red Hibiscus Margaritas with Piquin Chile Salt; silky, fragrant Kahlua and Vanilla Flan; and many more.
This is ideal party food, and Antojitos follows through with sidebars on Mexican cooking and entertaining, along with five suggested menus for themed parties: Ano Nuevo (New Years), Cumpleanos (Birthday), Cinco de Mayo, and Dia de Los Muertos (Day of the Dead). Dozens of glorious food photographs round out the book. Authentic Mexican food has never looked so inviting, stylish, and fun. (Ten Speed Press, $22.99)
Order a Copy